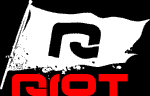 The Riot is designed for intermediate to expert kiters looking for the ultimate mid aspect, high performance, powerful 4 line fixed bridle kite. (Non de-power)
The Riot thanks to its excellent design has insane stability and handling that is any die-hard foil kiter's dream; it's one of those kites you pick up, fly for a few minutes and fall in love with. It's direct and powerful performance will leave you grinning from ear to ear.
Like the rest of Ozone's kite range, the Riot is manufactured in our own production facility to the same high standard as our certified paragliders using only the finest materials. The bridle lines are a mixture of Edelrid sheathed and unsheathed Dyneema. The sheathed Dyneema was chose n for the main bridle lines with the upper lines in un-sheathed Edelrid SK 75 Dyneema. We chose this line for its thin diameter to give ultimate low drag performance.
The Riot has been designed and tested for all forms of traction kiting including scudding, free-flying, buggy, KGB (Kite ground Boarding) and snowkiting.....the Riot can do it all and has a raw power that will appeal to all kiters looking for the ultimate ride with a fixed bridle kite
RIOT Manual On Line
You can find the full Riot manual on line here. You can read it before you buy to get detailed information on the kite and it's setup.
(If you do not have Acrobat Reader you can download it here)